The power of direct selling is its people and the data is overwhelmingly in favor of in-person selling. In fact, top retailers can count on in-person conversion rates that range between 20 and 40% while online sales experience conversion rates that hover between 2-5%.
The inverse is true for return rates, where online return rates can exceed 20% while in-person return rates are typically in the 5-10% range. What's more, the amount of time that customers devote to in-person interaction can be up to 300% greater than online engagement.
One would think that this puts the direct selling distribution model in the driver's seat but, as we all know, appreciate, and love, direct selling is extremely unique and its combination of digital and physical selling has yet to find a seamless, sweet spot.
In fact, as direct selling has become more digital, it has acquired many of the challenges of ecommerce in addition to the challenges that are indigenous to the industry's in-person social selling model:
Low online conversion rates
High online return rates
Insufficient number of in-person opportunities
Overwhelming abundance of distracting technology
Low distributor engagement
High failure and turnover rates for new distributors
Increasing difficulty selling on social media
Time demands of following up from Zoom, social media and in-person meetings
Direct Selling is built on in-person selling which is by far the more successful method of selling and still accounts for over 80% of total global, retail sales. In 2022, Direct Selling has faced decreasing sales as COVID took back its wins and distributors returned to work, drawn by tight job markets.
SO, how does a Direct Selling Company increase sales? Naturally, it should revert to doing what it does best and simply ask its distributors to have MORE in-person meetings, but that comes with its own challenges...
Most distributors are part-time so asking them to increase the number of weekly in-person meetings is failing to recognize their success paradigms. What makes the gig economy so powerful is self-determination, the ability to set one's own hours according to one's own goals and ambitions. The reality is that the number of "active distributors" has remained relatively constant for years despite numerous efforts to the contrary so asking them to be "more active" is bound to revert to the mean.
Livestreaming and similar technologies afford direct selling companies the opportunity to do more with less. It's far easier to have online meetings than "in real life" (IRL) meetings. That means that a distributor with five hours to devote to her business can probably only conduct a single IRL meeting but can conduct 2 or 3 online meetings PLUS an IRL meeting.
The goal is not simply to have Distributors spend more time on social or to "go live" more – it's to have them engage in more interactions and 2-way conversations that resemble more of the in-person experience.
It's not a magic pill, relationship building is more than just one interaction, but having Distributors spend their time on a more narrow audience, building relationships will have a greater impact than posting 10 times a week and "going live" to a distracted audience. Additionally, if Direct Sales Companies can move those meetings off Zoom and Facebook and run them off their own websites, they can decrease the complexity and number of steps required for conversion, which will allow distributors to spend more time meeting and less time following-up and chasing.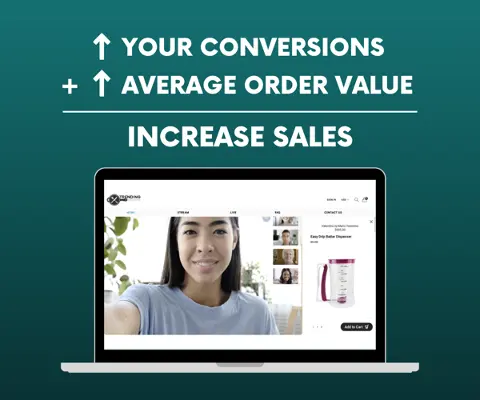 Reduce Friction and Increase Sales with Live Video on Your Website
What's more important is that your distributors are already using it but with a lot of friction in the sales process. Livestreams on social media sites can be convenient, but their overall conversion rate is quite low, so Distributors spend more time following-up rather than building trust or converting. Livestream Shopping and Shoppable Videoconferencing from distributor sites reduces friction, increases conversion and, most importantly, allows distributors to work within their individual success paradigms. Plus, by conducting both directly from distributor or corporate sites and leveraging a company's underlying ecommerce platform, direct selling companies can keep better control of their brand and gain insight into the performance of these channels.
There are many ways distributors can utilize livestream shopping, shoppable videoconferencing, and shoppable video to grow their business, from their replicated sites:
Going "live" to a large group of participants
Going "live" to a smaller, more intimate "VIP" group
Hosting a more intimate and interactive shoppable videoconference (a digital in-person meeting, similar to Zoom)
Having a scheduled or impromptu "shoppable" 1:1 (like Facetime, WhatsApp, etc.)
Using livestream ordering technology to enhance and simplify the in-person experience
Host pre-recorded shoppable videos on their replicated sites for customers to browse at their convenience
Ideas of topics Distributors can use with Livestream Shopping and Shoppable Videoconference:
Live Virtual Parties/Events
Digital In-Person Meetings
One-on-One Consultations (Concierge Commerce, Assisted Shopping, Influencer Selling)
Product Education
Tutorials/How To's
Showcasing Customer Results & Testimonials
Product Reveals or New Offers
Group Product or Opportunity Presentations
The key is that by meeting digitally and on their own distributor websites (personal web pages), the event is easy to run, branded, and void of unnecessary sales cycle friction.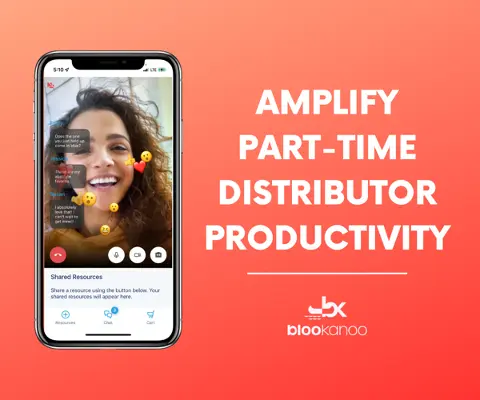 When speaking of direct selling in his book, The Gig Economy, John Fleming states, "motivations are not about one sole motivator, and the dream is more often the opportunity to earn a few hundred dollars with the hope that the experience might grow into greater earnings. A few hundred dollars of incremental earnings could tilt the budget..." The data is clear; a very small number of people become Top Distributors or make direct selling full time professions. Therefore, finding a way to make it easier for the majority of distributors - the ones looking for a few hundred dollars more per month - to actually achieve that goal would be instrumental in any effort to increase sales. Imagine what an increase of just one order per month with an AOV (average order value) increase of 25% would do for your business when that increase occurs over 90% of your distributor base!
Technology has made it easier for people to participate in the gig economy at whatever level they wish to participate. Direct Selling is at a moment of both great opportunity and threat to its model, but by adopting both the gig economy mindset and the technology that empowers it, Direct Selling can leverage its highly personalized selling approach in both the digital and physical worlds – it can be the first truly seamless, phygital (physical + digital) distribution model!
---