The physical and digital worlds will continue to merge, eventually making the line between them almost indistinguishable. The continued growth of digital is driving the demand for dramatically improved capabilities coupled with highly personalized interactions
Ecommerce has undoubtedly been one of the greatest developments for consumers and at no time was that more apparent than during the pandemic. However, despite its convenience, ecommerce remains a highly impersonal experience that still lacks the trust, warmth, and conversion of its in-store counterpart. Livestream Shopping and Social Commerce have emerged to close that gap by connecting shoppers to a community of sellers or influencers in a concert-like atmosphere, one-to-many events often referred to as "shoppertainment."
The next evolution is as logical as it is intuitive: assisted, concierge style videoconference shopping with a sales associate, person, or influencer available in a one-to-one or one-to-few setting. The sessions are almost always scheduled in advance, though impromptu meetings remain invaluable for sellers, especially when assisting shoppers one-on-one. The key is the intimacy of the experience. Unlike their livestreaming predecessors, concierge commerce and shoppable videoconferencing allow shoppers to interact directly with the salesperson mimicking the in-store experience and finally combining the convenience of ecommerce with the warmth, trust, and expertise of in-store, assisted shopping.
Many large and small retailers - REI and Lululemon being some of the more recognizable names - offer appointments on videoconferencing platforms to evoke the in-store experience online. Retailers that offer these services are finding that they can personalize ecommerce, close more sales, and reduce returns. And the data supports their efforts. According to BRP, over 70% of consumers say a personalized service from a sales associate is an important factor in determining where to shop and nearly 90% of consumers are interested in consistent personalized experience across channels.
Using Concierge Commerce or Shoppable Videoconferencing is a legitimate way to humanize the online shopping experience for customers and provide a number of benefits for the company, not just increased sales.
By adding "shopping" to a "livestream," technology has given us the ability to finally add the missing human element to the convenience of online shopping.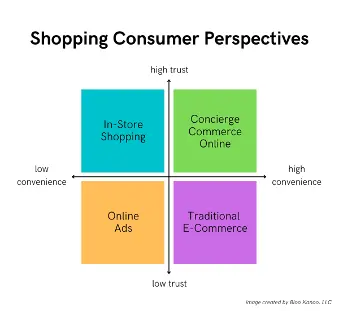 With these recent advances in technology, the in-store formula is easier than ever to duplicate online.
At Bloo Kanoo, we love the outdoors and many of us shop at REI (Recreation Equipment Inc.). One of the great things about the in-store experience at REI is that it's not unusual to find associates ("green vests") that are well versed on or experienced with a variety of products and activities. This is extremely helpful for the average consumer who isn't experienced enough to navigate the myriad outdoor equipment choices available. It is no surprise that they introduced Virtual Outfitting as a way for their customers to interact with those same knowledgeable associates online. The convenience of a virtual experience with the added confidence and trust of an experienced concierge provides the REI customer with a personalized experience online.
Integrate It Into Your Online Experience
One of the keys to converting prospects into customers in any channel is reducing friction from the purchase process. Whether in-store or online, all retailers are constantly evolving to increase conversion and reduce abandon. Concierge Commerce can be delivered by using and maintaining a third-party platform that offers livestream shopping (shoppable videoconferencing and shoppable broadcasting) or by offering livestream shopping directly from a company's own ecommerce platform. There's less friction and maintenance by offering livestream experiences directly from company sites. Unlike with Social Commerce (e.g. Facebook) and Live Commerce (e.g. Amazon LIVE), customers experiencing livestreams or shoppable videoconferences directly on company sites can add to cart and checkout directly on the sites and not on Facebook or Amazon or by clicking on a hyperlink embedded in a live. This enables a more robust and more seamless experience for the customer and gives companies greater control over the brand, the experience, and the cart, plus additional insights into consumer buying behavior.
Direct Selling Channel and Concierge Commerce
Direct Selling was founded on personalized selling and assisted shopping. It made selling and buying a fun and highly personal affair allowing legions of independent salespeople to start businesses as side or full-time jobs. Direct Sellers are approachable, know and often love the products they represent, and many have firsthand, personal knowledge of their customer needs.
Direct Selling Parties and Events remain integral to the success of the channel. However, hosting in-person events is not easy. Forward-thinking salespeople turned to social media and videoconferencing to expand their reach with less impact to their busy lives. Unfortunately, there's too much technology and much of it is disconnected. This causes already busy salespeople to get busier managing technologies and sales processes rather than engaging in sales-generating activities.
Concierge Commerce is the perfect marriage of direct selling's personalized attention and technology. It is everything direct selling is in-person but online, without the prep work of an "in-person, in real life" event and without the threat of "Facebook Jail!" Direct Sellers are embracing videoconferencing technology that allows them to retain the interactive attention of their in-real life parties and that allows them to host more meetings per week with less stress and impact to their busy lives. And depending on the platform, Concierge Commerce can be delivered using technology distributors are already comfortable using from their own distributor sites.
The physical and digital worlds will continue to merge, eventually making the line between them almost indistinguishable. The continued growth of digital is driving the demand for dramatically improved capabilities coupled with highly personalized interactions. In-store conversion rates can reach 40% for top retailers with online rates paling in comparison. It is important for retailers to continue to leverage technology to mimic the in-person experience if they wish to improve their online sales. Most importantly, it has become critical for personalized, customer-centric service to be offered online to create a stronger, more loyal customer relationship.
---