Advances in livestreaming technology have opened the door to human based, online experiences. This innovative sales channel is expected to dominate ecommerce and to account for approximately half a trillion dollars globally by 2022
The next evolution of ecommerce is here!
Ecommerce has gone through three decades of evolution and growth with an unexpected acceleration in 2020 due to the pandemic. It has proven its value despite original fears that a lack of human presence and social interaction would discourage shoppers from shopping online. However, even with all its growth, ecommerce accounts for under 20% of global retail sales. There are numerous explanations, but one thing became evidently clear during the height of the pandemic: we crave human interaction. As such, IRL shopping (in real life) remains more satisfying for many consumers than shopping online.
So, what's leading the latest growth in ecommerce? Is it just a Pandemic Pop? There's no denying that ecommerce saw a Pandemic Pop; however, the latest growth in ecommerce began before the pandemic with the introduction of livestream shopping (LIVE commerce).
Advances in livestreaming technology have opened the door to human based, online experiences. Livestream shopping, led by shoppable livestreaming, began in 2015 and expanded considerably in 2019, a year before the pandemic; and in 2021, livestream shopping added shoppable videoconferencing to the mix, further humanizing the online experience by enabling online retailers to interact with individual customers (one to one) or with small groups of customers in intimate, "online shoppable meetings."
This innovative sales channel is expected to dominate ecommerce and to account for approximately half a trillion dollars globally by 2022. Most of that growth is from China but the US has begun experimenting with livestream shopping because of its ability to match the success and conversion rates of in-store selling. In fact, livestream shopping converts at four to ten times the rate of traditional ecommerce putting livestream shopping on par with in-store selling. One can only imagine the growth that livestream shopping will experience as it expands globally!
What is livestream shopping?
First, let's define the term "livestreaming." Livestreaming is a generic term that refers to the streaming of live, digital video content and includes two types of services: (1) online videoconferencing like Zoom, Teams, Google Meets (2) livestreaming services on platforms like Facebook, Instagram, and YouTube. Livestream shopping simply adds purchasing features to a livestream experience allowing livestream participants to purchase products during the livestream event.
The best way to understand the difference between shoppable livestreaming and shoppable videoconferencing is to think of shoppable livestreaming as a "stadium" and shoppable videoconferencing as an intimate, backyard concert. Shoppable livestreaming allows the presenter to speak to large audiences. Communication is one-way because the audience can purchase products but doesn't interact directly with the presenter or other audience members. On the other hand, shoppable videoconferencing enables presenters to showcase products or services in a more private and interactive online setting, to a single person or to a small group of people. The presenter shares products or services to the screen and the participants can add those items directly to their carts during the videoconference. Unlike with shoppable livestreaming, the audience can interact directly with the presenter and each other. It is the beginning of what many believe to be the final frontier for ecommerce – humanized online shopping.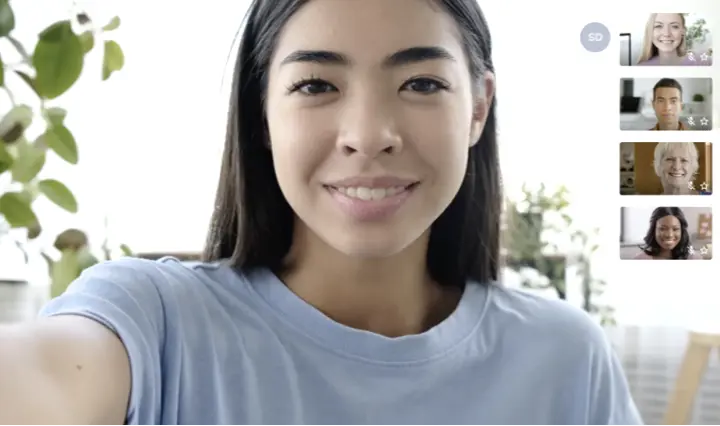 Which one is best for direct selling?
Direct Selling was founded on the idea of personalized selling. Additionally, direct sellers have expanded their markets beyond their immediate neighborhoods and cities to include other states and countries. Direct sellers have turned to online product and opportunity meetings to connect and grow their organizations and to increase their available selling time. In person events and meetings will always be part of direct selling's DNA but having the ability to conduct shoppable videoconferences will allow direct sellers to conduct more meetings, to interact better with their growing organizations and to be better prepared to face challenges like COVID
Shoppable videoconferencing is a natural next step for today's direct sellers. They can continue to conduct in person events but can complement those efforts with virtual, shoppable videoconferences that can be conducted in greater numbers and that can be more easily incorporated into their busy lives. However, it would be inaccurate to say that shoppable livestreaming (stadium) has no place in direct selling. For example, top leaders could leverage shoppable livestreaming to reach their large organizations and announce special sales, new products, or events. This works best for top leaders because they have large organizations from which to draw an audience, and because such events don't necessitate the individual attention of a shoppable videoconference.
Regardless, there's no denying that empowering direct sellers to conduct shoppable videoconferences or shoppable livestreams directly from their distributor sites is consistent with what has made direct selling such a successful distribution channel for many great brands. And by seamlessly integrating livestream shopping directly with distributor sites, direct selling companies don't have to worry about managing and maintaining multiple ecommerce platforms.
What's next for ecommerce?
Virtual fittings, augmented and virtual reality, and headless technology will further blur the lines between the online and offline experiences. The most successful retail companies of tomorrow will be those that can architect a consistent, omnichannel experience that includes a healthy mix of livestream shopping and "in-person" selling!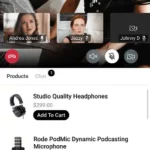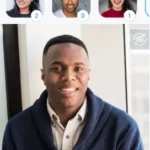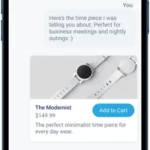 ---